5 ★ SWIMMING LESSONS IN 5 ★ FACILITIES IN SURREY
Throughout the UK, almost 12 million people of all ages and abilities enjoy swimming regularly, whether for fun, fitness or competition. Learning to swim is one of the most important skills a person can develop.
Not only is swimming the only sport that is an essential life skill, but by learning to swim you open up doors to a whole host of water-based activities and exciting sports.
Our aim is to teach each individuals the fundamentals of swimming, following a structured programme in a non-competitive, fun environment, safely.
Swim Safe School was established in 1995 and have experience in teaching children and adults to swim. All teachers are qualified through the Amateur Swimming Association and are members of the Institute of Swimming.
We offer swimming lessons in Surrey at the Cranleigh Golf & Country Club, the Duke of Kent School and at St. Catherines School in Bramley.
I have been extremely impressed with the high standards of teaching at Swim Safe School. Darren really makes an effort to get to know all of the children and ensures they achieve their full potential at every lesson whilst maintaining a sense of fun. My 3 children actively look forward to their lessons each week and have made enormous progress in the year since they joined the school.
A professional approach to adult swimming classes. Just the right mix of support and encouragement with expert tuition. I feel I progressed at such a fast pace because everything was broken down and explained to me in a clear and structured way. My fear of the water melted away after just a few lessons.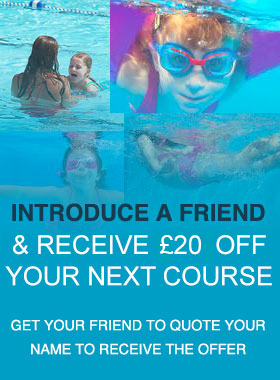 "The progress my son has made is phenomenal and both my husband and I are thrilled. The level of the teaching is brilliant and aimed exactly at the right level and the rapport that the teacher has with my son is fantastic. My son looks forward to his lesson each week and packing his swim bag is the first thing he does on a Sunday night .... his lesson isn't until Wednesday ........ can't wait to start my 3 year old and 1 year old.